SCHNOODLE
$999
PRICING AS POSTED
ON EACH
INDIVIDUAL PUPPY
PRICE POSTED IS A
CASH PRICE
REFLECTING A 5% DISCOUNT
to insure your
puppy's health
YOUR PUPPY COMES WITH A
1 year health guarantee
your puppy has been vet checked
AND
we discount $75 on regular priced puppies
for your puppy's initial wellness check at your vet
per
MINNESOTA PUPPY LAW
Poodle crossbreeds are meant to produce a dog with mixed traits and the Poodle's
signature non shed coat. The Schnoodle doesn't 'breed true', meaning that it
doesn't display a consistent set of characteristics. They can vary substantially in
height and weight. The Miniature Schnoodle is most common at 11-22 lbs. They may
have a rough and wiry coat, like the Schnauzer, or a soft Poodle coat, or any variation
in between. Some have alternating patches of soft and coarse hair; coarse on the back
and soft on the top of the head is common. There are a wide variety of possible colors,
including black, brown, grey, white, apricot, or a mixture. Common mixes include
black and white, sable, and 'phantom' (black and tan like a Doberman Pinscher). Puppies
in the same litter may have coats of different color and texture. The Schnoodle has
the Poodle's intelligence and the loyalty and devotion of the Schnauzer.
They are alert, loving, and playful. The Schnoodle makes a good companion and family pet.
They are fantastic with children, strangers, dogs, and other pets.
The Schnoodle is energetic, intelligent, and eager to please, making it easily trained.
They are typically a happy breed which enjoy being with their family.
The Schnoodle enjoys walks and outdoor activities. Lifespan is about 12-16 years.
TOYS AND OTHER ACCESSORIES THAT WE HAVE
AVAILABLE ARE PICTURED ON OUR FAQ PAGE.
ACCESSORIES NOW AVAILABLE FOR SHIPMENT
PICTURED ON THE OTHER PUPPIES PAGE
No Puppies Available
At This Time
Please Check Back
Thank You!
updated 12-1-22
NEXT LITTER AVAILABLE FOR PLACEMENT
12-23-22
$300 NON REFUNDABLE DEPOSIT TO RESERVE THE PUPPY OF YOUR CHOICE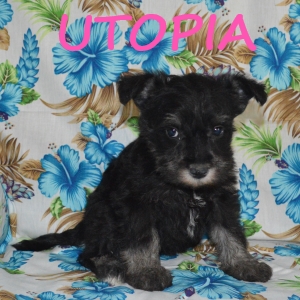 Utopia is a black & silver
female Schnoodle
she has been placed into her new forever home
YOU ARE WELCOME TO CALL MONDAY THRU SUNDAY
FOR INFORMATION OR TO ARRANGE AN APPOINTMENT
BETWEEN 8:00 AM & 9:00 PM
WE ARE AVAILABLE BY APPOINTMENT ONLY
TO MEET PUPPIES
WE ACCEPT CASH
OR
VISA/MASTERCARD
no checks
YOU ARE WELCOME TO EMAIL
pupspe@yahoo.com
OR CALL
507-461-3327
IF YOU HAVE QUESTIONS
OR
IF YOU WOULD LIKE TO
SET UP AN APPOINTMENT
TO MEET A PUPPY