Yorkie/Poo
$999
PRICING AS POSTED
ON EACH
INDIVIDUAL PUPPY
to insure your
puppy's health
YOUR PUPPY COMES WITH A
1 year congenital health guarantee
your puppy has been vet checked
AND
we discount $75 on regular priced puppies
for your puppy's initial wellness check at your vet
per
MINNESOTA PUPPY LAW
Color(s): Apricot, blue and tan, black and tan.
Their coat is non shedding so this makes a
Yorkie Poo a good choice for people that have allergies.
The coat of the Yorkie Poo is typically soft and silky.
It may be straight, wavy, or curly. Their eyes are dark with a lively expression.
They are commonly referred to as "designer dogs" and are extremely popular.
The ideal Yorkie Poo typically will possess a lively and keen expression.
Their ears may drop like a Poodle or may stand up like a Yorkshire Terrier.
They are loyal, loving, affectionate, feisty, and clever.
They do well with dogs and non-canine pets.
Yorkie Poo's are very family oriented.
The Yorkie Poo can learn quickly what is expected of them.
They will not respond to harsh or heavy-handed methods.
Training must be done with firmness, fairness, patience, and consistency.
The Yorkie Poo is well suited for apartment living.
Yorkie Poo's enjoy family play sessions, securely leashed walks,
and off-lead play in a fenced yard.
The Yorkie Poo's personality can be a mix of both parents.
They are friendly self confident, sensitive, loyal, energetic,
intelligent, playful and sweet and loving dogs.
For people wanting a no odor, no shedding, highly intelligent pet
that is easy to maintain, you will love a Yorkie Poo.
If you have allergies they will make you a wonderful pet and
they also get along with other pets, the ideal dog is a Yorkie Poo.
TOYS AND OTHER ACCESSORIES THAT WE HAVE
AVAILABLE ARE PICTURED ON OUR FAQ PAGE.
ACCESSORIES NOW AVAILABLE FOR SHIPMENT
PICTURED ON THE OTHER PUPPIES PAGE!
THESE PUPPIES
ARE AVAILABLE!
update 9-21-23
THESE PUPPIES ARE AVAILABLE
FOR PLACEMENT!
$300 NON REFUNDABLE DEPOSIT TO RESERVE THE PUPPY OF YOUR CHOICE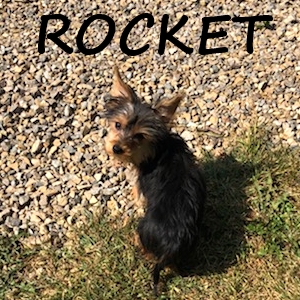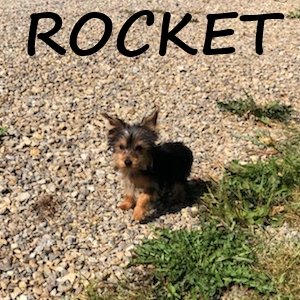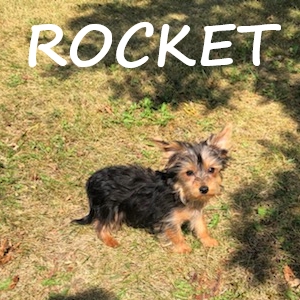 Rocket is a black & tan
male Yorkie Poo
DOB 5-21-23
adult size about 8-12 lbs.
available
beginning balance
$1074
minus wellness discount
$75
ending balance
$999 plus tax
Laurel is a black & tan
female Yorkie Poo
DOB 5-21-23
adult size about 6-9 lbs.
available
beginning balance
$1074
minus wellness discount
$75
ending balance
$999 plus tax
YOU ARE WELCOME TO CALL MONDAY THRU SUNDAY
FOR INFORMATION OR TO ARRANGE AN APPOINTMENT
BETWEEN 8:30 AM & 8:30 PM
WE ARE AVAILABLE BY APPOINTMENT ONLY
TO MEET PUPPIES

WE ACCEPT CASH
OR
VISA/MASTERCARD
no checks
YOU ARE WELCOME TO EMAIL
pupspe@yahoo.com
or call
507-461-3327
if you have questions
or would like to
set up an appointment
to meet a puppy